The #1 Best Houston Roofing Company!
If you need a professional roofing company, and have been searching throughout Houston for everything from roof repair to new roof installations, look no further! Texas Certified Roofing has expert roofers with decades of experience under their belt for both residential and commercial roofing jobs. At Texas Certified Roofing, we are always prepared for any storm damage that may come your way — from high winds to heavy rains — our experts at Texas Certified Roofing can have you covered in no time.
We all know the weather can sometimes be a pain. Especially when you have some overdue roof damage to repair and live along the Gulf Coast of Texas. You may have even noticed that you start to clench your teeth every time hurricane season rolls around. Lets put that stress to rest. We guarantee that once you work with us you won't spend another day worrying about a leaky roof, interior water damage, or your ceiling giving way and falling down. We offer and deliver:
It can be hard at times to find a reputable roofing company that is also affordable. Texas Certified Roofing works hard to provide customers with the most suitable roofing solutions, using only the highest-quality roofing products, and all the while staying within your budget.
At Texas Certified Roofing, we are committed to our customers and deliver top craftsmanship in all aspects of roofing; from repairing a damaged roof or skylight, to completing a new roof installation while maintaining the safest work environment possible. We fully dedicate ourselves to each and every one of our customers. Our roofing contractors make sure to understand all of your residential or commercial roofing needs before starting a project.
Texas Certified Roofing will handle all communication and paperwork with your insurance company making the process both smooth and simple for you. We want you to have a good experience when it comes to taking the right steps to protect your home or office building. The only action you will be required to take is to pick up the phone and contact us today!
Texas Certified Roofing is bonded and insured for your protection. We offer a wide variety of roofing and insulation services from industrial to residential roofing applications, view more. We provide free estimates and same day service.
---
ROOF LEAK REPAIR IN HOUSTON
Texas Certified Roofing offers residents and businesses in Houston with high-end roof leak repair for damaged, missing or broken tiles or shingles. If you suspect any water damage, or take preventative maintenance measures to extend the life of your roof. Learn More »
---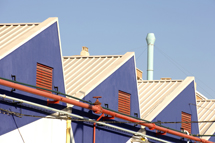 HOUSTON COMMERCIAL ROOFING
Texas Certified Roofing has built a solid reputation over the last 20 years for trust and reliability as a leading commercial roofing company in Houston, Texas. We take great pride in being the most trusted and prominent roofing company in Houston. Learn More »
---
HOUSTON INDUSTRIAL ROOFING
Texas Certified Roofing provides a variety of waterproofing, institutional roofing, and industrial roofing services in Houston, Texas and all surrounding areas. Get a no-obligation quote with a quick, free and simple drone roofing inspection! Learn More »
---
HOUSTON RESIDENTIAL ROOFING
For its valued customers, Texas Certified Roofing offers equally comprehensive residential roofing services in Houston. Call us and lets get our contractors to remove those old, worn shingles if necessary to re-deck and water shield your roof. Learn More »
---
Houston Residential & Commercial Roofing
ASPHALT / METAL ROOF EXPERTS
Texas Certified Roofing is a Houston TX roofing company that installs and repairs commercial and residential roofs in the Houston and surrounding areas. We are family owned and operated and have been in business for over 20 years.
DETAILED & RELIABLE SERVICES
We are certified for all types of roofing projects including residential homes, commercial stores, buildings, churches, and industrial buildings. We handle all roofing insurance claims, inspections & adjustments on damaged roofs due to storms. Our company is certified, bonded and insured for your protection.
QUALITY THAT'S AFFORDABLE
Texas Certified Roofing offers many cost-effective solutions that can offset the cost of your home improvement project. Our highly trained installers are certified experts in repairs and installation for various types of roofing systems. We use exclusive high-grade products like thermal insulation that significantly improves the efficiency of your home.
Ask us about the special financing we offer! We have several payment options available which include MasterCard, Visa, and American Express.
CONTACT US TODAY!
We would love to hear from you! Call us today on (832) 827-4585, or you can fill out the online form to have one of our Texas Certified Roofing professionals contact you.